STEP 1: We need to have his or her boarding agreement sent over. You can find our boarding agreement here: Boarding Agreement 2023
STEP 2: Scan or email your pets vaccination record & boarding agreement to us. They need to be up to date on RABIES, DISTEMPER, LEPTO, PARVO & BORDETELLA.
STEP 3: Call or email the pet lodge to confirm receipt of documents & reservation dates!

Our daily rates are $64.00 per day for the first dog and $48.00 for each additional dog staying in the same run, per day from day of drop off to the day of pick up.
Check out time is 10 AM. If your dog is checked out after 10 AM, you are charged for that day.
Between May 15th and September 15th, our boarding fee will go up $10 per dog per day.

During Memorial Day, 4th Of July, & Labor Day, we require a 3 day minimum for boarding.
Vaccinations…
All dogs must have the Bordetella shot AT LEAST 2 weeks prior to boarding with us.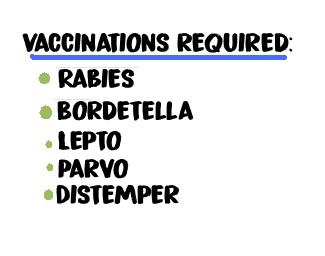 Our hours…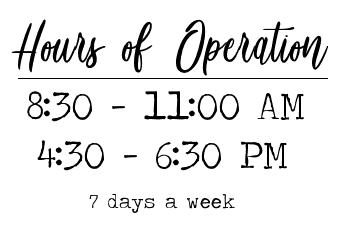 Tours…
If you would like, you could always schedule a tour and come check out the lodge before your pets stay. We usually schedule tours for 10 AM and 5 PM, 7 days a week. 
Methods of payment…

Sorry for the inconvenience!