If you and your pet are new to Tuxedo Pet Lodge, welcome! Below is all the information to ease your mind about your dog's first stay with us. As always, if you have any additional questions or concerns, please feel free to call us or shoot us an email.
845-351-3395 | Cathy@tuxedopetlodge.com

Making reservations…
In order to reserve your pets spot we would need to have his or her boarding agreement on file. You can find that here: Boarding Agreement 2019 As soon as we receive the agreement, we can reserve your pet's vacation with us.
Checking on your pet…
During your pets stay, you want to know how they're doing! You can message us on Facebook, email us or call the kennel to check on them at any time (sending an email or a Facebook message is faster and easier).
Pictures…
Pictures are available when you purchase our picture package. While we love to take pictures, sometimes it is very hard to take pictures of everyone staying with us.
Your pets typical day at the lodge…
 Your pet's day will be full of friends, and a ton of play time with all the other doggies staying here. If they aren't fond of the other pups, they are more then welcome to hang with the staff in our reception for belly rubs and one on one attention. Guests get to go outside a minimum of 7 or 8 times per day (dependent upon the weather). Potty and play breaks are separated. 
Play time…
While at the pet lodge, safety comes first. That's why we strive on getting to know your pet and their personality so that we can decide which guests would get along the best. We group the dogs based on size & temperament. Play groups stay small, so they wouldn't be outside with any more than 3 to 5 dogs at a time. If your pet prefers human interaction over doggie interaction, absolutely no problem.
 What to bring…
We recommend you bring a blanket or bed, toys and treats/bones for your pet. It is tile throughout the kennel, so they will need something comfy to lay on. As always, we warn everyone not to bring something they will miss if it doesn't make it back home! Please no comforters.
 Feeding…
Please package food into zip-lock baggies and mark them with your dog's name and feeding time. (AM/PM) Packing a few treats and bones would be a good idea too!
We only accept large food containers/bags for extended stays. (8+days)
 Special Needs…
We understand that some of our guests may have special needs. Please feel free to discuss any special requirements with us when you make your reservation. Here at the pet lodge we also have 2 suites, separate from the other dogs, with a separate yard for those who need special, quieter and comfier accommodations. These separate suites do not have stairs into the yard, which is beneficial for older dogs who cannot get up and down stairs.
Extras…
We offer a ton of extras for your pet during their stay. They include all different kinds of packages, walks, baths, toys and treats.
Click here for details on our extra services
 Rates…
Our daily rates are $39.00 per day for the first dog and $25.00 for each additional dog, per day from day of drop off to the day of pick up. This is a rate for all breeds and it is all inclusive (except for medication). If you pick up your pet by 10 AM, you are not charged for that day.
During peak boarding times, our boarding fee will go up $5 per dog per day. Peak times are the following: June 1st to October 1st, December 20th through January 3rd. During some holidays, we may require a 3 day minimum for boarding.
 Vaccinations…
All dogs must have the Bordetella shot AT LEAST 2 weeks prior to boarding with us.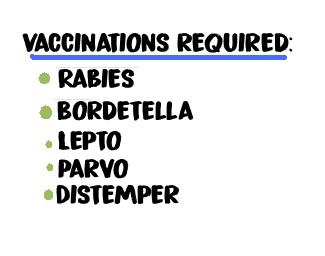 Cancellation policy…
We require advance notice of cancellations as follows: 48 hours notice for non-holiday boarding and 72 hours notice for major holidays, spring break and summer boarding. Summer boarding is considered June 24th through September 7th. We reserve the right to charge up to $50, or 50% of the reservation, whichever is less, when proper notice isn't given for cancellation.
 Our hours…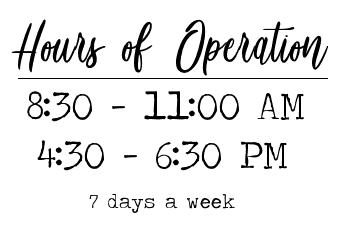 Holidays…
Tuxedo Pet Lodge will be closed on all Federal Holidays. This includes Thanksgiving, Christmas Day, New Years Day, Easter, Memorial Day, Independence Day, Labor Day.
Please note, the day after Thanksgiving, Christmas, Easter, Memorial Day, 4th of July & Labor Day we will reopen at 4:30, we will not have morning hours for drop off & pick up. 
 Tours…
If you would like, you could always schedule a tour and come check out the lodge before your pets stay. We usually schedule tours for 11 AM and 5 PM, 7 days a week. 
Methods of payment…

Sorry for the inconvenience!