January 2023: Happy New Years! Some changes were made to the Boarding Agreement for the New Year, please make sure you update your information for the 2023.
January 2020: Happy New Year! Just a reminder, this coming year we will require 3 day minimum stays on Memorial Day weekend, 4th of July Weekend, & Labor Day weekend. We will be closed on all major holidays, and the morning after, re-opening between 4:30-6:30 the day following major holidays. Just a reminder rates will increase $5 per day per dog for the summer. May 15th-September 15th. Looking forward to the next year!
November 2019: Luxury suites are now ready! Book today. 845-351-3395
June 2019: Starting June 1st, our boarding price will go up to $44 per day per dog, and $30 each additional  dog staying in the same run. This is our summer up charge for our busy season. We would also like to remind our customers about our 72 hour notice for all summer cancellations beginning June through October.
May 2019: Treat your furry friend to an hour long hike in nearby Harriman State Park. It's nice to do something special for your pet while you're away!
April 2019: Now offering dog walking! Serving parts of Orange Rockland & Bergen counties.
March 2019: LUXURY ACCOMMODATIONS COMING SOON!
February 2019: During SPRING BREAK, APRIL 19TH-29TH, there will be a 3 day minimum for our guests. During the dates of June 27th-July 7th, and August 29th-Sept 1 there will be a 3 day minimum.
January 2019: This year, all dogs who require "special means" to take medication will be charged $1.00 per pill. This will cover costs for Pill Pockets. Dogs who take medication easily in food, will not be charged. Dogs who bring pill pockets for their stay will not be charged. We will no longer be accepting turkey/cheese etc. for pills.
February 2018: Introducing our new boarding agreement. If you haven't filled out an updated form, please do so and email or fax it in to us.
January  2018: Tuxedo Pet Lodge will be closed on all Federal Holidays. While we are still here with the dogs, we are closed for drop off and pick up. This includes Thanksgiving, Christmas Day, New Years Day, Easter, Memorial Day, Independence Day, Labor Day. Please note, the day after some holidays, we reopen at 4:30 pm.
June 2017: There will be a $5 up-charge per day, per dog for summer boarding, Memorial Day through October 1st.
February 2017: Our German Shepherd puppies were born! They will be ready to go home March 29th. Please call if interested! 845-351-3395
January 2017: FULL SERVICE GROOMING SALON! We will soon be offering full service dog grooming 5+ days a week.
May 2016: We now have CENTRAL AIR & an AIR EXCHANGE SYSTEM! Cool, fresh air all summer long for all our guests.
Our new T-Shirts are in! For $20, you can buy a T-shirt, and support our local animal shelter too.
April 2016: 
We now offer additional services! 
Our new services include:
Peanut butter stuffed Kong
March 2016: INTRODUCING OUR NEW PACKAGES! Customize your pets vacation and save. Choose between The Puppy Package, The Weekend Warrior, The Nutty K9, or The Clean Freak. Click here to learn more!
January 2016: Extended hours, 8:30-11:00 AM for drop off and pick up and also, free pick ups extended 8:30 AM to 10 AM!
Check out our new upgrades too!
Our brand new beautiful front walkway
New runs throughout, we can now accommodate more dogs!
Our new transport vehicle!
New merchandise in the lobby. Dirty dog door mats, pig ears, toys & treats.
New pea gravel in all fenced areas, comfy & clean for the dogs!
Small upgrades throughout our building, including painting & other small cosmetic details.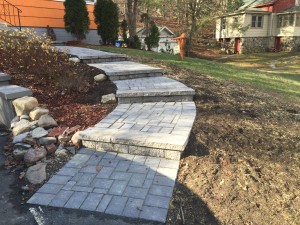 The Dirty Dog Doormat™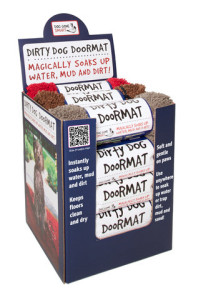 The Dirty Dog Doormat™ from Dog Gone Smart soaks up mud and dirt, so the MESS stays in the MAT keeping floors clean & dry! Super absorbent material
Soaks up to 7 times its weight in water and mud, 50% more microfibers, dries 5X faster than ordinary door mats, plush and velvety soft, super Gripper Backing & machine washable.